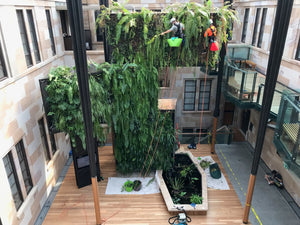 High Q - Customers at work
The latest feature in our series of posts featuring our candidates at work shows the team from Space Plants.
University Queensland's Global Change Institute has won many awards for its sustainable architecture and design. At the heart of the building's interior is a 3 level vertical garden that helps to naturally cool and purify the building internal environment. Like all gardens it also needs regular maintenance. The team at Space Plants make this easy with their horticultural expertise and diverse skill set of working at heights, EWP's and IRATA Rope Access. In the picture Shane Sadkowsky who is the founder of Space Plants and a Level 1 Rope Access Technician along with a Level 3 Rope Access Technician from All Tech Industry Abseilers.
Space Plants is on a mission to help people love plants for the atmosphere they create by providing the skills to help plants comfortably grow in the spaces where they have the biggest positive impact on people and the environment. Whether it be growing plants in your apartment, office, restaurant or up the wall of a 70 story skyscraper… Space Plants aims to be there to make the journey as easy and as rewarding as possible for the plants involved and the people.
---